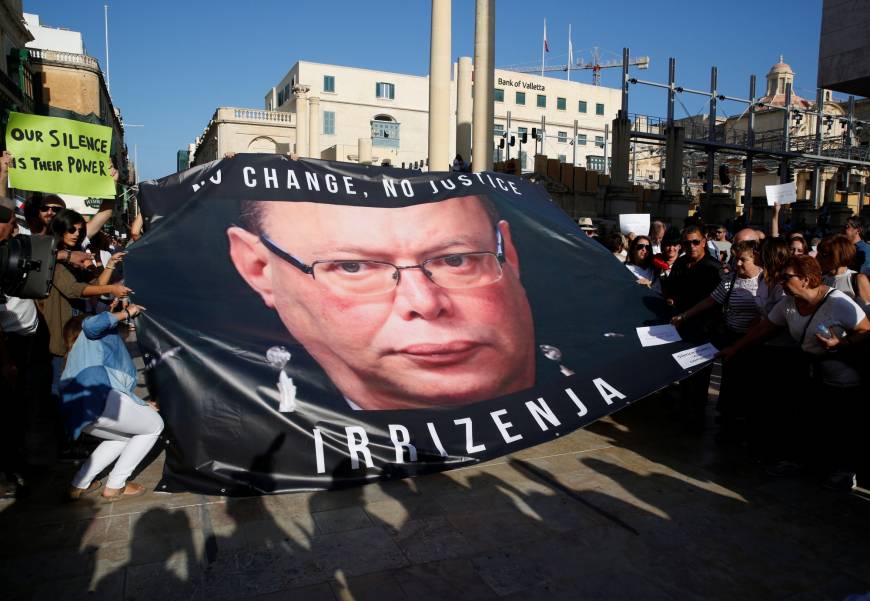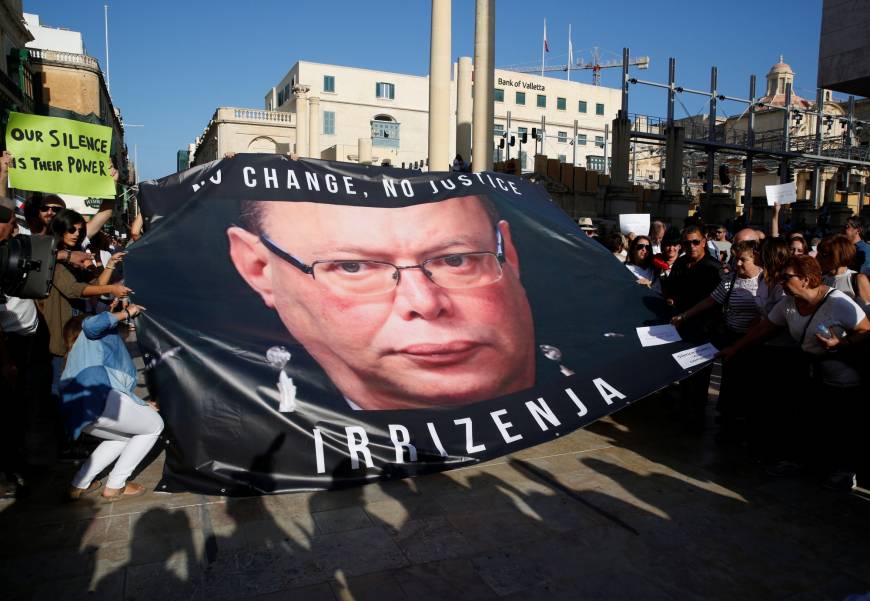 During yesterday's national protest the
Civil Society Network
made two specific immediate demands: the resignations of both the Police Commissioner and the Attorney General, and the appointment of both by two-thirds Parliamentary approval. It didn't go as far as to request the resignation of the Prime Minister, though given the context in which this murder took place I personally believe that it should have been immediate. But since we live in a highly-polarised country where, unfortunately, politicians are placed on pedestals, I understand that they did not want to antagonise anyone.
Some have questioned whether these two resignations are warranted. Some have questioned whether it would help to improve the situation. I say that they are not only necessary to assure the independence of the investigations, but necessary for all of us to feel a little bit more safe.
Daphne has repeatedly exposed links between politicians, organised crime, and money. That link exists, it is obvious, and is being commented upon by all major international news outlets. "You cannot operate at the level you need to move tens, hundreds of millions without having corruption with its tentacles reaching into all areas," said Jonathan Benton, former Head of the UK's Anti-Corruption Agency, when interviewed on Daphne's murder on BBC Radio 4 last week. And those "areas" include politics, power at the highest levels.
So, logically, some of the biggest suspects who would need to be thoroughly investigated about this murder include either people in power or people very close to them. In a normal country, we would be safe in the knowledge that the Police Force is completely independent from the Executive, and would be ready to investigate all leads which might lead to a successful conviction. But do we have an independent Police Force to trust?
Four and a half years ago, the removal of John Rizzo as Commissioner of Police was the first in a series of decisions taken by Joseph Muscat which destabilised and eventually dismantled the Police Force. No reason was given for his dismissal. The only apparent outcome at the time was that the team investigating the 'oil scandal' was dismantled and the prosecution of John Dalli was dropped. Consequently, we saw three Police Commissioners resign in three years. None of them followed up on these cases. One even allowed a statement incriminating Gozo's major drug traffickers to be changed. They all failed to open investigations on the Panama Papers. They all failed to investigate the money pouring in from Azerbaijan's politically exposed persons into Maltese accounts, even though the FIAU reports directly instructed them to prosecute (something which the Attorney General, who had the reports on his desk, failed to do as well). They all failed to investigate money pouring in from the gas tanker company to Keith Schembri's and Konrad Mizzi's companies, as the FIAU reports show. They all failed to investigate these high-level links between politicians, organised crimes, and big money, very big money, which Daphne single-handedly wrote about.
Mind you, these crimes are as yet NOT being investigated. The Magisterial inquiries opened just before the last election relate to the Egrant ownership claim, and Keith Schembri's kickbacks from Russian oligarchs buying Maltese passports. The government is still fighting in Court for no investigations to be initiated on the Panama Papers in their totality.
The current Commissioner is the only one who stayed. And the Attorney General was retained too. Why? Because it seems they are the only ones who the powers-that-be could rely upon for unwanted investigations not to be opened, and when necessary, for crimes to remain covered up. For good. And I am not the one saying this. It is something the Chief Justice said just a few weeks ago. The Courts want to do their job, but the Police and the Attorney General are failing to prosecute.
So, what if the criminals behind this murder are the same criminals our Commissioner and Attorney General have conveniently failed to investigate and, by doing so, covered up for them for these four years? If this is the case, how are we to trust that these investigations are going to be objective and independent, when by apprehending these criminals they would be incriminating themselves and their political masters for their past dereliction of duty? Moreover, they would not only be keen on covering up for them again, they would also be keen on framing up someone else, to convince us that they have performed their job and to bring the search for truth to a halt. It happened in Malta in the past: after Raymond Caruana's murder an innocent man was framed and almost assassinated by the Police while he was being treated in hospital so that they could cover up for the acts of others. The others they had been protecting and allowing to roam free for the preceding years. If we are not vigilant, it can happen again.
That is why we cannot "wait and see what the conclusion of the investigation is" before resignations are in order, as some are suggesting. That it why everyone is on edge and deeply unsettled by this situation. Because it's the investigations themselves, led by untrustworthy people who now have access to Daphne's sources, which are scaring us. It's their behaviour in these past four years which is scaring us. It's their incompetence which is scaring us.
For us to even consider believing the official story which will be given out, the Police Commissioner and Attorney General must go. Now.